AI-Generated post 4 min to read
Seamless Integration, Endless Possibilities: Dive into the New Era of Digital Agreements.
From Page Creation to E-Signature: Power Pages Does It All.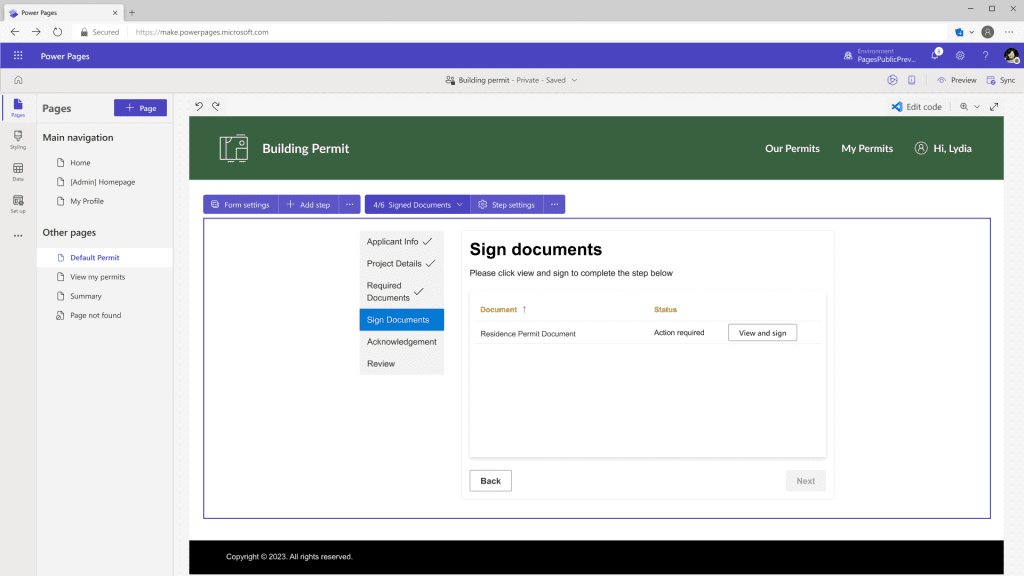 Transforming Digital Workflows: Power Pages and DocuSign Lead the Way.
Microsoft Power Pages is a part of the Microsoft Power Platform, and it's designed to help organizations rapidly build and deploy web pages without the need for extensive coding or web development expertise. Here's a breakdown of what Microsoft Power Pages offers:
Low-Code Development Platform: Power Pages is primarily a low-code platform, which means users can create web pages with minimal coding. This makes it accessible to a broader range of users, not just professional developers.

AI-First Approach: Power Pages incorporates artificial intelligence (AI) capabilities, allowing for smarter and more dynamic web page functionalities.

Data-Centric Websites: With Power Pages, users can create data-centric websites that can collect, automate, and share critical business data securely. This is especially useful for businesses that want to gather information from their customers, partners, or other stakeholders.

Interoperability: As seen from its integration with DocuSign, Power Pages is designed to work seamlessly with other tools and platforms. This interoperability ensures that businesses can incorporate various functionalities into their web pages without compatibility issues.

Secure and Global Hosting: Power Pages provides a reliable, secure, compliant, and globally accessible hosting service. This ensures that the web pages are not only accessible from anywhere but also adhere to global standards and regulations.

Diverse Capabilities: From no-code to low-code to code-first website development, Power Pages offers a range of development options to cater to different user expertise levels. Additionally, it comes with governance tools to manage and oversee the development and deployment of web pages.

External Website Launching: Power Pages empowers organizations and governments to launch services as external websites. This is particularly useful for entities that want to provide services or information to a broader audience without the need for them to log into a specific system.
Microsoft Power Pages is a tool designed for the modern digital age, where agility, efficiency, and user-friendliness are paramount. It allows organizations to rapidly deploy web pages, gather data, and provide services, all while ensuring security and compliance.
Streamlining Digital Agreement Workflows: Microsoft Power Pages Meets DocuSign
In the ever-evolving digital landscape, businesses are in a constant race to enhance efficiency and streamline processes. A significant stride in this direction is the growth of digital agreement management, especially e-signatures, which have become indispensable for various operations like onboarding, application submissions, and loan processing.
Microsoft Power Pages, a tool that aids organizations and governments globally to swiftly launch services as external websites, has taken a leap forward. The recent announcement by Microsoft introduces a seamless interoperability between Microsoft Power Pages and DocuSign. This integration, currently in public preview, allows Power Pages creators to design data-centric websites equipped with document generation and e-signature capabilities. The ultimate goal? To bolster businesses in refining their agreement workflows.
Key Takeaways:
Low-Code Development's Rising Popularity: Low-code development platforms, like Power Pages, are gaining traction due to their ability to reduce the need for intricate coding in application development. Power Pages stands out as an AI-first trusted low-code web development platform, offering a range of capabilities from no-code to code-first website development. The integration with DocuSign further amplifies its capabilities, introducing built-in document generation and e-signature functions.

Seamless Integration with DocuSign: This collaboration between Power Pages and DocuSign eSignature is set to revolutionize the way businesses incorporate e-signatures into web applications and workflows. DocuSign, a leader in electronic signature solutions, when combined with Power Pages, offers a streamlined workflow for embedding e-signatures into multi-step forms via a low-code Studio experience.

Diverse Industry Applications: The interoperability of Microsoft Power Pages and DocuSign can be leveraged across various sectors:

Government: Streamlining HR processes, expediting licensing and permit applications, and enhancing healthcare case management.
Financial Services: Simplifying customer onboarding, loan application approvals, and address updates.
High-Tech: Accelerating project kick-offs, simplifying contract management, and digitizing employee onboarding.
Education: Enhancing admissions processes, streamlining student services, and fostering research collaboration.
In a nutshell, the synergy between Power Pages and DocuSign is poised to empower organizations to embrace the digital age fully. By harnessing the strengths of low-code development and e-signature capabilities, businesses can innovate, streamline operations, and maintain a competitive edge in their domains.
Embrace the Future: Are you ready to transform your business processes and unlock unprecedented productivity levels? Dive into the world of low-code development and agreement workflows with Power Pages today!
Explore the full article here and try Power Page
---
If you are interested in Citizen Development, refer to this book outline here on Empower Innovation: A Guide to Citizen Development in Microsoft 365
If you wish to delve into GenAI, read Enter the world of Generative AI
Also, you can look at this blog post series from various sources.
Stay tuned! on Generative AI Blog Series
Certain part of this post was generated through web-scraping techniques using tools like Scrapy and Beautiful Soup. The content was then processed, summarized, and enhanced using the OpenAI API and WebPilot tool. We ensure that all content undergoes a thorough review for accuracy and correctness before publication
---